Pen-names: Chan Corbett
----------------------------------




"Back to 20,000 A.D."
(with Arthur Leo Zagat)
(20,000 AD series 2)
© Wonder Stories, Mar 1931

-----------------------------------

"Crystallized Thought"
© Astounding Stories, Aug 1937
--/ third place sf novella
--/ wonder award
--/ adventure award
--/ style award
--/ idea award
--/ awesome scale
--/ rare find

"The Dragon of Iskander"
© 1934, Top-Notch
Fantastic Stories, Jul 1962
--/ cool sf story
--/ wonder award
--/ adventure award
--/ rare find

----------------------------------------------




"Ecce Homo"
(as by Chan Corbett)
© Astounding Stories, Jun 1936
--/ cool sf story: epic alien history
--/ wonder award
--/ awesome scale
--/ rare find

An even bigger scale here... The canvas is eons and eons of a civilization's development, told with broad, sweeping strokes - a curious (almost non-fiction) piece. The Latin title 'Ecce Homo' is taken from the Bible, and means 'Behold the man!'
review: 03-Aug-06 (read in 2006)

----------------------------------------------




"Eight Came Back"
© Fantastic Adventures, Nov 1941
--/ cool time sf story
--/ rare find

Eight historic personalities come back to save the world... This was written in 1941, when America was soon to plunge into WW2 (this pulp issue is full of curious ads like "Do you know why German submarines can get so close to the American shores? - find out in this popular science text"), so such stories are a dime a dozen in the pulps - and I expected better from Schachner. He can routinely infuse a good dose of wonder into his (even run-of-the-mill) stories, but here he decided to stick to a boring formula. The giants of thought and famous generals are talking up a storm, each pushing an ego-maniacal or ideological agenda, but it all gets tiring very quickly. The idea somewhat resembles Philip Jose Farmer's "Riverworld" and Kelvin Kent Time Travel series (by Henry Kuttner and Arthur K. Barnes).

----------------------------------------------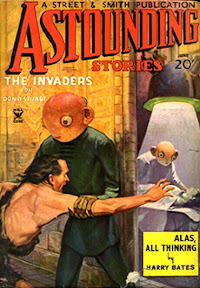 Nat Schachner
"The Orb of Probability"
© Astounding, Jun 1935
--/ fourth place sf story
--/ wonder award
--/ awesome scale
--/ rare find

The same machines-as-saviors future that was later very effectively used in Arthur Clarke's "The Lion of Comarre". The same vista of endless centuries fruitlessly spent under the watchful eye of all-knowing and all-caring machines. The same rebellious character who strives for an element of unpredictability, imagination and risk. The only difference is that Schachner got there first, and this novelette is one of the original & great treatments of this idea. Read this when you need an injection of grand scale and wide perspective (as with almost any Nat Schachner story)
review: 25-Dec-07 (read in 2007)

----------------------------------------------

"Past, Present and Future"
(Past, Present and Future series 1)
© Astounding Stories, Sep 1937
Before the Golden Age, 1974
--/ cool sf story

----------------------------------------------




"Reverse Universe"
© Astounding Stories, Jun 1936
--/ fourth place space sf story
--/ wonder award
--/ adventure award
--/ idea: time backwards
--/ awesome scale
--/ emotion award
--/ rare find

This is a "diamond in the rough" - a tough, beautiful story of survival in space (with emphasized undertones of sacrifice and despair, which gives this story an emotional intensity unusual for a pre-Campbell era pulp). But wait, there is more! The story evolves into totally weird "reverse Universe" environment, complete with an alien ecology and loads of wonder. This is a high point for Schachner (not a slacker in "pulp fiction" by any means) and a "blockbuster" of a story. It is really strange that no anthology dealing with space/time exploration ever reprinted it.




----------------------------------------------

"The Song Of The Cakes"
(with Arthur Leo Zagat)
© Oriental Stories, Fall 1931
--/ rare find

----------------------------------------------



"Stratosphere Towers"
© Astounding Stories, Aug 1934
--/ third place sf story
--/ wonder award
--/ awesome scale
--/ rare find

Where is the publishing industry when you need it? How come there is no Nat Schachner short story collection out there? Here is a guy who personified the kind of story that can only be called "stupendous, inventive pulp blockbuster hit" (and I am not talking of Mr. John W. Campbell, the great granddaddy of space opera). Here is a guy who (in his most epic stories) unleashed cinematic wonders on par with WETA Digital effects - and he is not reprinted? that does not seem fair. Although, it's not that surprising: short story collections (especially reprints) are falling by the wayside, eclipsed by the cult of 500-plus page Almighty Novel. They don't move off the shelves. Oh well, soon there are not going to be any shelves to move from (Borders is ailing, and there is going to be a lot of unsold inventory next year) - and surely in the new Google book-digitizing universe many sf pulps will become freely available again.

But enough rambling, get this: Nat Schachner crafted a sort of "Independence Day" here: swarms of robotic planes attack huge stratosphere-height mega-cities... villains, heroes and sheer gleeful wonderment galore (mmm... Schagatastic!!). It's hard to ignore Nat Schachner at the top of his strength (see his novella "Crystallized Thought", for example). Late 1930s Astounding was the prime market for this kind of thing, and I unabashedly lust for more of the same stuff... if I can find it.




----------------------------------------------

"The Ultimate Metal"
© Astounding Stories, Feb 1935
--Groff Conklin' story selection
--/ third place sf novella
--/ wonder award
--/ idea: skyscraper metal intelligence
--/ adventure award
--/ shock value
--/ rare find

----------------------------------------------
Click to go to "Dark Roasted Blend" site
COMMENTS:
LATEST POSTS:
Also read recent posts
:
Author's Pen Names - Most Complete List Ever
The Wonder Timeline: SF&F Restrospective
Space Adventure Article
SEE OUR MAIN PAGE FOR MORE!
EXPLANATION OF THE RATING SYSTEM:


"SF&F Reading Experience" is part of "Dark Roasted Blend / Thrilling Wonder" family of sites. We try to highlight the most entertaining and rewarding science fiction and fantasy, with emphasis on memorable reader experience, not necessarily general acceptance by the critics. Have fun, and delve into our extensive ratings and reviews!

Most reviews are written by Avi Abrams, unless otherwise noted. Reviews also appear on our unique historical retrospective page Wonder Timeline of Science Fiction. Feel free to submit your own review, if a particular story is not listed here.


All major OFFICIAL AWARDS are highlighted in BLUE
("winner" has a letter "W" by it, otherwise it is a runner-up only)

Our PERSONAL AWARDS (ratings) are highlighted in RED and PURPLE:
--/ first place :
--/ second place :
--/ third place :
--/ fourth place :
--/ cool : (equal to fifth place)
ALL "BEST OF" LISTS ARE LOCATED HERE

These awards are given in the following categories:
- novel :
- series :
- novella :
- story :
- collection :

Also, there are our personal STYLE / GENRE SPECIFIC AWARDS. These reflect the story's content and the lasting impression on the reader:

--/ wonder award
sense-of-wonder, "visual intensity" and inventiveness

--/ idea award
originality of idea / concept

--/ adventure award
exhilarating plot, excitement / action

--/ style award
outstanding literary qualities, inimitable style

--/ romance award
intense and beautiful love / relationships

--/ humour award
funny and cool

--/ emotion award
touching, lasting impression, sensitivity

--/ shock value
altogether wild

--/ awesome scale
mind-boggling; further enhances sense-of-wonder

--/ rare find
very hard to locate, mostly from old pulps, never reprinted, etc.

Again, please feel free to leave your own review or comment under every writer's entry; also recommend us other stories you liked.