It took some time to get information on these, as these super-rare issues are not cataloged on the web, and these stories are absent from all available bibliographical sources! The incredible line-up of writers, Lovecraft writing side-by-side with Howard, Smith/Campbell/Hamilton are all doing what they do best (blowing up planets) - together! Smashing "wonder-fiction", crying to be brought into the spotlight again.

"Let us contemplate with melding hearts and soaring minds the infinity of beckoning stars"
- Richard Vaughan, "Exile of the Skies"

----------------------------------------------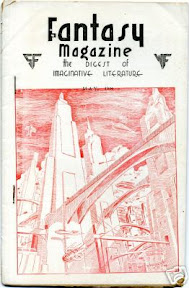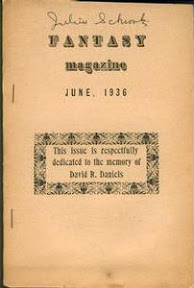 "Cosmos Serial" -
(plotted by Raymond A. Palmer)
1. Ralph Milne Farley "Faster Than Light"
2. David H. Keller "The Emigrants"
3. Arthur J. Burks "Callisto's Children"
4. Bob Olsen "The Murderer From Mars"
6. John W. Campbell "Interference on Luna"
7. Francis Flagg "Son of the Trident"
8. Otis Adelbert Kline & E. Hoffmann Price"Volunteers From Venus"
9. Abner J. Gelula "Menace of the Automaton"
10. Raymond A. Palmer (as Rae Winters) "The Return to Venus"
11. A. Merritt "The Last Poet & The Wrongness of Space"
12. J. Harvey Haggard "At the Crater's Core"
13. E. E. "Doc" Smith "Course Perilous!"
14. P. Schuyler Miller "The Fate of the Neptunians"
15. Lloyd Arthur Eshbach "The Horde of Elo Hava"
16. Eando Binder "Lost in Alien Dimensions"
17. Edmond Hamilton "Armageddon in Space"

© Science Fiction Digest, Jul 1932
Fantasy Magazine, Dec 1934
Perry Rhodan, Ace Books
--/ fourth place space sf series
--/ wonder award
--/ awesome scale
--/ rare find

Unreal... Simply the most unique event in the history of science fiction, a collaboration of the brightest stars in the field, some at the beginning of their careers, some already at the peak. The list of writers is a shining "all-star" galaxy in itself. The fiction is... well, it's big-scale, full of grand conflict, ridiculous science, unpronounceable names and places, more bang that you ever encountered between soft book covers - testing the limits of reader's imagination and credulity. Impossibly hard to find today, the serial spanned the issues of "Science Fiction Digest", and then "Fantasy Magazine" (the installments of the Cosmos round-robin were not printed in the issues themselves but as separately-bound supplements). Personally I liked the "Last Poet" part and the crazy, absolutely delirious space battle extravaganza by Lloyd Arthur Eshbach. Multi-dimensional "Wrongness of Space" anomaly attacks our system, alien menaces and mad scientists pop out of every wrinkle of time and space, flying around (some will say chaotically) in droves, driving the serial to its bang-up finish - incomparable Edmond Hamilton destroying the planets Pluto, Neptune, and Uranus with an atomic disintegrator ray in his "Armageddon in Space". A monumental literary artifact from the "wonder pulps" era, quite enjoyable even to this day.

(cover images credit: Chris Perridas)
review: 10-Jan-08 (read in 2008)

----------------------------------------------

And as though one "fiction star-fest" was not enough, Fantasy Magazine published yet another collaborative effort, just as fascinating, if not more rare - contained in one issue, which costs a fortune today:

----------------------------------------------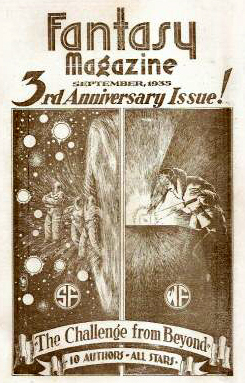 "The Challenge from Beyond"
(Round-robin serial: sf part + weird fantasy part)
© Fantasy Magazine, Sep 1935
The Challenge from Beyond, 1990

SF PART:

Stanley G. Weinbaum
Donald Wandrei
Edward E. Smith
Harl Vincent
Murray Leinster

FANTASY PART:
H.P. Lovecraft
Robert E. Howard
C.L. Moore
A. Merritt
Frank Belknap Long

--/ wonder award
--/ rare find

The Ultimate SF&F Collectible! An extremely rare "round-robin" serial, published in the impossibly hard-to-get magazine (almost a fanzine) and only recently reprinted as a limited-edition chapbook. The similar SF round-robin serial "Cosmos" from "Fantasy Magazine" is also hard-to-find: it's been reprinted only in "Perry Rhodan" magazine, of all places! It's time for somebody to publish these serials together as one paperback... The best pulp writers at the time were asked to submit a story episode, and they all did - this tells you what an unpretentious and enthusiastic crowd they were - each keeping his or her own signature style, together making a sort of "Who's Who" catalogue of the fantastic pulps. So far I have only read a few episodes, but let me tell you, it's almost like coming to the most delicious smorgasbord of all times... vintage and delectable stuff all over.
review: 30-Sep-06 (read in 2002)
(cover images credit: Chris Perridas)




----------------------------------------------

Click to go to "Dark Roasted Blend" site
COMMENTS:
LATEST POSTS:
Also read recent posts
:
Author's Pen Names - Most Complete List Ever
The Wonder Timeline: SF&F Restrospective
Space Adventure Article
SEE OUR MAIN PAGE FOR MORE!
EXPLANATION OF THE RATING SYSTEM:


"SF&F Reading Experience" is part of "Dark Roasted Blend / Thrilling Wonder" family of sites. We try to highlight the most entertaining and rewarding science fiction and fantasy, with emphasis on memorable reader experience, not necessarily general acceptance by the critics. Have fun, and delve into our extensive ratings and reviews!

Most reviews are written by Avi Abrams, unless otherwise noted. Reviews also appear on our unique historical retrospective page Wonder Timeline of Science Fiction. Feel free to submit your own review, if a particular story is not listed here.


All major OFFICIAL AWARDS are highlighted in BLUE
("winner" has a letter "W" by it, otherwise it is a runner-up only)

Our PERSONAL AWARDS (ratings) are highlighted in RED and PURPLE:
--/ first place :
--/ second place :
--/ third place :
--/ fourth place :
--/ cool : (equal to fifth place)
ALL "BEST OF" LISTS ARE LOCATED HERE

These awards are given in the following categories:
- novel :
- series :
- novella :
- story :
- collection :

Also, there are our personal STYLE / GENRE SPECIFIC AWARDS. These reflect the story's content and the lasting impression on the reader:

--/ wonder award
sense-of-wonder, "visual intensity" and inventiveness

--/ idea award
originality of idea / concept

--/ adventure award
exhilarating plot, excitement / action

--/ style award
outstanding literary qualities, inimitable style

--/ romance award
intense and beautiful love / relationships

--/ humour award
funny and cool

--/ emotion award
touching, lasting impression, sensitivity

--/ shock value
altogether wild

--/ awesome scale
mind-boggling; further enhances sense-of-wonder

--/ rare find
very hard to locate, mostly from old pulps, never reprinted, etc.

Again, please feel free to leave your own review or comment under every writer's entry; also recommend us other stories you liked.