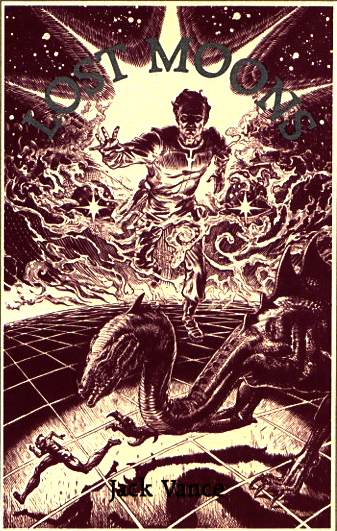 Jack Vance is certainly one the most inventive writers in SF&F, capable of creating very detailed and fascinating environments, but unfortunately rarely giving them any further exploration or depth. His early stories are great entertainment, but later fiction became less accessible, with confusing plot-lines and irrelevant side-stories. However, at his best, Vance shines as a most spectacular visionary in history of SF&F.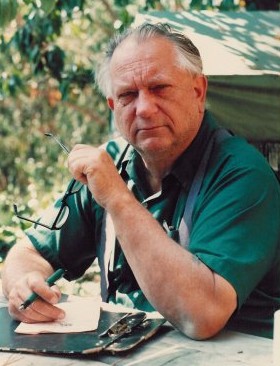 This time we reviewed only a handful of his stories. See the rest of his fiction rated here.

----------------------------------------------------------------------------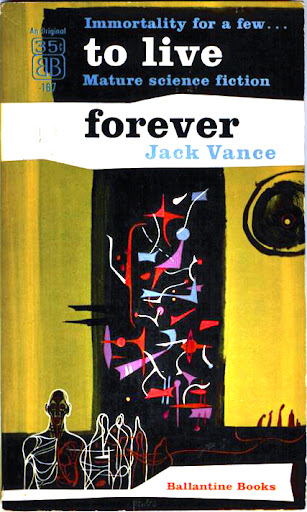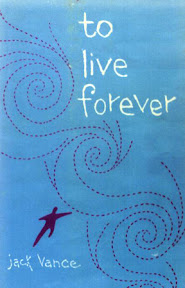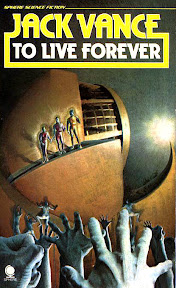 Jack Vance
"To Live Forever" (nv)
© 1956, Ballantine Books
--/ fourth place sf novel
--/ wonder award
--/ idea award

This was the first full-length novel for Jack Vance, published by the prestigious Ballantine company, with a neat Richard Powers cover. It deals with the fascinating subject of achieving immortality before the individuals (and the decadent society) are ready for it. Something desirable and (almost) holy turns into a nightmare of Dante's proportions, where every individual must play the "merit" game, to advance in the "works" system - which of course is corrupt and totalitarian in nature. Plus, those who fail to play the game are euthanized - quite spooky and daring social extrapolation stuff for 1956, bringing to mind the main thesis of communism: "From each according to his ability, to each according to his need". It does sound like the opposite of "works" system, but we all know it's not the "grace" system either. Nick Gevers said it best: "(the novel) tells in sumptuous claustrophobic detail just how alien--and alienated--a human society might become, portraying a mighty far-future city state driven by absolute standards of meritocracy turning against itself in hysteria and bloodshed"

Besides interesting idea developments, this book boasts wonderfully lively descriptions of a future urban environment. This is Jack Vance at the top of his form, building visual vistas of futuristic skyscrapers and sky highways. Soaring architecture almost reflects the main character's strive for the lofty heights of immortality. I thoroughly enjoyed this book, even if I was spooked by its cold and uncaring dystopian society. Highly recommended.
review: 01-Feb-08 (read in 2006)

----------------------------------------------




"Brains Of Earth" (nv)
(also as "Nopalgarth")
(Nopalgarth series)
© Ace Double, 1966
also - DAW Books, 1980
--/ fourth place sf novel
--/ wonder award
--/ idea: para-cosmos
--/ shock value

This is a small pop-art masterpiece with some psychedelic overtones. It feeds on paranoid ideas of the Fifties (aliens possessing our brains), embellishes it with cool descriptions of psychological and aural warfare (reminds me of the "Final Fantasy" ghostly doppelganger entities), and reads like a gaudy poster in its simplicity of idea and plot. I often skipped many pages, to arrive sooner at the bizarre parasitic "brain" warfare sequences, which make this book stand out from the other invasion fare, and from everything else Vance has written.
review: 10-Sep-06 (read in 2003)

----------------------------------------------




"Ullward's Retreat"
© Galaxy, Dec 1958
Future Tense, 1964
--/ fourth place sf story
--/ wonder award
--/ emotion: stuck-up aristocracy

Can you imagine a "real estate spiel", a multi-colored brochure - how only Vance could write it? Of course the piece of a real estate described here is gorgeous, in a prime location on another planet (Vance also throws in descriptions of planet ecology, landscapes, etc). However, visuals aside, this story is about the aristocratic, "stuck-up" attitude of one upper-class family, displaying a kind of sophisticated bored indifference. I would recommend this story to anyone considering moving up in the world - to dwell on consequences of acquiring just such an attitude. Overall, quite enjoyable novelette.
review: 06-Jul-06 (read in 2006)

----------------------------------------------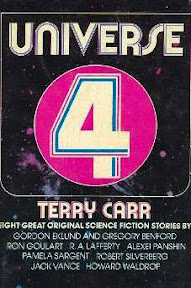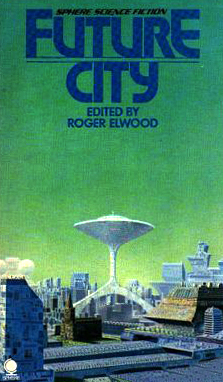 Jack Vance
"Assault On A City"
© Universe # 4, 1974
Lost Moons, 1982
--novella : 1975 Locus /4
--novella : 1975 Jupiter
--/ fourth place sf novella
--/ wonder award
--/ adventure award
--/ style award

Keeping in mind the year of its writing - 1974 - this novella predated many classic "cyberpunk" urban environments and, specifically, "Bladerunner" visuals. Not as dark as the famous Ridley Scott's movie set designs, "Assault on a City" features similar intense & ragged crowds of human & alien origin, plenty of fringe-culture display, flying cars and skyscraper jungle - all serving as a backdrop to pretty run-of-the-mill detective story. Even though the plot is confusing, the atmosphere is familiar and much liked in sf: it is the Asimov's "Caves of Steel" environment, updated for the 70s. Or rather, for the 80s - I believe this novella is 10 years ahead of its time in style and design. I am also glad the story's got a better title, than the originally-intended "The Insufferable Red-Headed Daughter of Commander Tynnott O.T.E.".
review: 05-Feb-08 (read in 1988)

----------------------------------------------

Read more reviews/ ratings for this writer



Labels: Features
Click to go to "Dark Roasted Blend" site
COMMENTS:
LATEST POSTS:
Also read recent posts
:
Author's Pen Names - Most Complete List Ever
The Wonder Timeline: SF&F Restrospective
Space Adventure Article
SEE OUR MAIN PAGE FOR MORE!
EXPLANATION OF THE RATING SYSTEM:


"SF&F Reading Experience" is part of "Dark Roasted Blend / Thrilling Wonder" family of sites. We try to highlight the most entertaining and rewarding science fiction and fantasy, with emphasis on memorable reader experience, not necessarily general acceptance by the critics. Have fun, and delve into our extensive ratings and reviews!

Most reviews are written by Avi Abrams, unless otherwise noted. Reviews also appear on our unique historical retrospective page Wonder Timeline of Science Fiction. Feel free to submit your own review, if a particular story is not listed here.


All major OFFICIAL AWARDS are highlighted in BLUE
("winner" has a letter "W" by it, otherwise it is a runner-up only)

Our PERSONAL AWARDS (ratings) are highlighted in RED and PURPLE:
--/ first place :
--/ second place :
--/ third place :
--/ fourth place :
--/ cool : (equal to fifth place)
ALL "BEST OF" LISTS ARE LOCATED HERE

These awards are given in the following categories:
- novel :
- series :
- novella :
- story :
- collection :

Also, there are our personal STYLE / GENRE SPECIFIC AWARDS. These reflect the story's content and the lasting impression on the reader:

--/ wonder award
sense-of-wonder, "visual intensity" and inventiveness

--/ idea award
originality of idea / concept

--/ adventure award
exhilarating plot, excitement / action

--/ style award
outstanding literary qualities, inimitable style

--/ romance award
intense and beautiful love / relationships

--/ humour award
funny and cool

--/ emotion award
touching, lasting impression, sensitivity

--/ shock value
altogether wild

--/ awesome scale
mind-boggling; further enhances sense-of-wonder

--/ rare find
very hard to locate, mostly from old pulps, never reprinted, etc.

Again, please feel free to leave your own review or comment under every writer's entry; also recommend us other stories you liked.