Theodore Sturgeon is one of my favorite short story writers; his elegiac, polished prose is full of human feeling and deep insights, it's emotional and thrilling at the same time. I can not emphasize enough the importance of keeping Sturgeon's work in print - he is truly one the finer standards in sf writing, the ideal to aspire to (excellent characterization, crisp plot lines and always a bit of poetic reflection, invariably affecting the heart)

----------------------------------------------





"The Cosmic Rape" (nv)
(also as "To Marry Medusa")
© Galaxy, Aug 1958
book : Dell Books, 1958
The Joyous Invasion, 1965
--/ fourth place sf novel
--/ wonder award
--/ style award

Review by author M. Christian

Good science fiction is fun to read. Great science fiction says something. Fantastic science fiction changes the way you think.

The Cosmic Rape by Theodore Sturgeon is good, great, and – most of all – fantastic. Sturgeon's writing is (as always) fun and engaging, the story addresses identity and individuality, and – best of all -- Sturgeon changes the way you'll think about one of the most common science fiction bug-a-boos: the idea of collective consciousness, a human hive mind.

Originally published in Galaxy Magazine as a novella called To Marry Medusa, the Cosmic Rape is initially told through a series of characters, each one separated from everyone around them and the rest of the world by shame, miscommunication, guilt, fear, and inexperience. Paul Sanders is a empathy-less sexual opportunist, Guido is a teenage musical genius trapped by an abusive history into a life of violence against the music he subconsciously craves, Dimity Carmichael is a self-satisfied abstinent getting off on the sexual sufferings of others, Mbala is a tribesman fighting his own fears along with the demon stealing yams from his family's scared patch, Henry is a boy living a life of unrelenting fear, and Sharon Brevix is a little girl lost in the middle of the desert.

Flowing, separately at first, between these characters is the skid-row loser Gurlick who just happened to have bitten into a discarded hamburger – a hamburger containing a scout seed from a galaxy-spanning hive mind called Medusa.

But Medusa has a problem: every other lifeform it's absorbed into itself has been in some way a shade of its own collective consciousness. Humanity, though, is different: here everyone is separated and alone, disconnected and unique.

So, thinking that humanity must have been together at one time but then broke apart, Medusa sends the alcoholic out to find a way to "put people's brains back together again" by promising the smashed-up and broken Gurlick whatever he wants.

Like everything of Sturgeon's, The Cosmic Rape is brilliantly written: the characters are rich and full and alive, the language is equal parts lyrical, poetic, and carefully structured and classical. Also like everything else of Sturgeon's, the story is bright and clear, a sneaky trick that takes you completely by surprise without ever resorting to cheap devices.

Here too are Sturgeon's favorite subjects: the explosion of what is sex and sexuality (as in Venus Plus X), the careful and perceptive look at humanity (as in Godbody) and especially the reinvention of what consciousness is and could be (as in More Than Human).

There is a part of The Cosmic Rape that lays it all out: the fun reading, the perfect 'something' that great science fiction has, and especially the way Sturgeon changes how we think but I won't just excerpt it here because that would be … well, wrong. Like – maybe, just maybe overdoing it a bit -- pasting in Michelangelo's God Creates Adam without the whole of the Sistine Chapel's ceiling. You have to read it yourself, but to give you an idea of what happens in that chapter, as well as the whole conclusion of the book, just think about the idea of a hive mind, a united human consciousness.

It's an old science fiction cliché, from Star Trek's borg to the Flood of Halo: "resistance was futile" and all that. Lots of folks lay awake at night and shudder at the thought of being merged, combined with something else, of losing their identity to some monstrous and hungry collective. But what Sturgeon did with The Cosmic Rape is to take that idea and twist it, turn it upside down and make it not hideous and frightening but warm, welcoming and wonderful: a humanity without judgment or fear, loneliness or shame, a united mankind of acceptance and understanding.

I can't recommend The Cosmic Rape enough. It's fun to read like all good science fiction, it says something important like all great science fiction, but best of all it's fantastic because Sturgeon manages to change the clichéd terror of a collective humanity into something that, like the book itself, is brilliant and wonderful.



(cover art by Paul Lehr, 1968 edition)

----------------------------------------------




"Fear Is A Business"
© F&SF, Aug 1956
--/ cool sf story
--/ style award
--/ emotion award

Nice, easily flowing story about an alien gift to humans, breaking the barriers of fear and embracing deeper knowledge - but with bittersweet overtones, how Sturgeon loves to do, bringing a little tear of "much is lost, but perhaps not all" sentiment to reader's eye. There is a rumor that the idea for that story was provided by Robert Heinlein. Of course, Sturgeon wrapped it in his inimitable style.
(review by Avi Abrams)

----------------------------------------------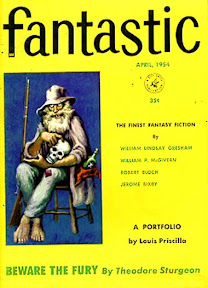 "Beware the Fury"
(also as "Extrapolation")
© Fantastic, Nov 1954
Sturgeon in Orbit, 1967
--/ cool sf story
--/ style award

The story reads smooth, like a good drink (Sturgeon, the word-smith), but the drink is diluted, so other than the main moral "Beware the fury of a patient man" this story does not linger in the mind. Some barely exciting encounters with evil aliens bent on conquiring Earth, with a Waldo-like figure of a savior: a man-hater, anti-social academic who gains the upper hand in the fight by the same trait of unpredictability. Not every traitor is what he seems. Usually one can not see the whole picture enough to judge.
(review by Avi Abrams)

----------------------------------------------




"Bulkhead"
(also as "Who?")
© Galaxy, Mar 1955
A Way Home, 1955
--/ third place sf story
--/ wonder award
--/ idea award
--/ style award

This one belongs right there in a category "Stories that made you cry". It has a great twist in the end, but that would be a spoiler to tell. It is lyrical, but at the same time, very tough space tale. Is there such a thing as "psychological therapy space fiction" sub-genre? I can count a few superior examples dealing with men's adaptation to the weirdness of space. Some guy in a spaceship is on a very long voyage. His only companion is some strange character, who he can talk to but must not meet until they arrive at their destination. When they do meet, it is not what anybody would expect...
(review by Avi Abrams)

----------------------------------------------




"A Saucer Of Loneliness"
© Galaxy, Feb 1953
E Pluribus Unicorn, 1953
--/ third place sf story
--/ wonder award
--/ style award
--/ emotion award

The story uses first contact (introducing pretty neat life form along the way) to speak about the sadness of isolated souls, the bitter-sweet rewards of drawing close to each other - all in a soft, warm voice that would be hard to forget, once you let it into your heart. A classic of classics, possibly the best inspirational story ever written.
(review by Avi Abrams)

----------------------------------------------

Read more reviews for this writer



Labels: Features
Click to go to "Dark Roasted Blend" site
COMMENTS:
LATEST POSTS:
Also read recent posts
:
Author's Pen Names - Most Complete List Ever
The Wonder Timeline: SF&F Restrospective
Space Adventure Article
SEE OUR MAIN PAGE FOR MORE!
EXPLANATION OF THE RATING SYSTEM:


"SF&F Reading Experience" is part of "Dark Roasted Blend / Thrilling Wonder" family of sites. We try to highlight the most entertaining and rewarding science fiction and fantasy, with emphasis on memorable reader experience, not necessarily general acceptance by the critics. Have fun, and delve into our extensive ratings and reviews!

Most reviews are written by Avi Abrams, unless otherwise noted. Reviews also appear on our unique historical retrospective page Wonder Timeline of Science Fiction. Feel free to submit your own review, if a particular story is not listed here.


All major OFFICIAL AWARDS are highlighted in BLUE
("winner" has a letter "W" by it, otherwise it is a runner-up only)

Our PERSONAL AWARDS (ratings) are highlighted in RED and PURPLE:
--/ first place :
--/ second place :
--/ third place :
--/ fourth place :
--/ cool : (equal to fifth place)
ALL "BEST OF" LISTS ARE LOCATED HERE

These awards are given in the following categories:
- novel :
- series :
- novella :
- story :
- collection :

Also, there are our personal STYLE / GENRE SPECIFIC AWARDS. These reflect the story's content and the lasting impression on the reader:

--/ wonder award
sense-of-wonder, "visual intensity" and inventiveness

--/ idea award
originality of idea / concept

--/ adventure award
exhilarating plot, excitement / action

--/ style award
outstanding literary qualities, inimitable style

--/ romance award
intense and beautiful love / relationships

--/ humour award
funny and cool

--/ emotion award
touching, lasting impression, sensitivity

--/ shock value
altogether wild

--/ awesome scale
mind-boggling; further enhances sense-of-wonder

--/ rare find
very hard to locate, mostly from old pulps, never reprinted, etc.

Again, please feel free to leave your own review or comment under every writer's entry; also recommend us other stories you liked.