Theodore Sturgeon is one of my favorite short story writers; his elegiac, polished prose is full of human feeling and deep insights, it's emotional and thrilling at the same time. I can not emphasize enough the importance of keeping Sturgeon's work in print - he is truly one the finer standards in sf writing, the ideal to aspire to (excellent characterization, crisp plot lines and always a bit of poetic reflection, invariably affecting the heart)

----------------------------------------------





"The Cosmic Rape" (nv)
(also as "To Marry Medusa")
© Galaxy, Aug 1958
book : Dell Books, 1958
The Joyous Invasion, 1965
--/ fourth place sf novel
--/ wonder award
--/ style award

Review by author M. Christian

Good science fiction is fun to read. Great science fiction says something. Fantastic science fiction changes the way you think.

The Cosmic Rape by Theodore Sturgeon is good, great, and – most of all – fantastic. Sturgeon's writing is (as always) fun and engaging, the story addresses identity and individuality, and – best of all -- Sturgeon changes the way you'll think about one of the most common science fiction bug-a-boos: the idea of collective consciousness, a human hive mind.

Originally published in Galaxy Magazine as a novella called To Marry Medusa, the Cosmic Rape is initially told through a series of characters, each one separated from everyone around them and the rest of the world by shame, miscommunication, guilt, fear, and inexperience. Paul Sanders is a empathy-less sexual opportunist, Guido is a teenage musical genius trapped by an abusive history into a life of violence against the music he subconsciously craves, Dimity Carmichael is a self-satisfied abstinent getting off on the sexual sufferings of others, Mbala is a tribesman fighting his own fears along with the demon stealing yams from his family's scared patch, Henry is a boy living a life of unrelenting fear, and Sharon Brevix is a little girl lost in the middle of the desert.

Flowing, separately at first, between these characters is the skid-row loser Gurlick who just happened to have bitten into a discarded hamburger – a hamburger containing a scout seed from a galaxy-spanning hive mind called Medusa.

But Medusa has a problem: every other lifeform it's absorbed into itself has been in some way a shade of its own collective consciousness. Humanity, though, is different: here everyone is separated and alone, disconnected and unique.

So, thinking that humanity must have been together at one time but then broke apart, Medusa sends the alcoholic out to find a way to "put people's brains back together again" by promising the smashed-up and broken Gurlick whatever he wants.

Like everything of Sturgeon's, The Cosmic Rape is brilliantly written: the characters are rich and full and alive, the language is equal parts lyrical, poetic, and carefully structured and classical. Also like everything else of Sturgeon's, the story is bright and clear, a sneaky trick that takes you completely by surprise without ever resorting to cheap devices.

Here too are Sturgeon's favorite subjects: the explosion of what is sex and sexuality (as in Venus Plus X), the careful and perceptive look at humanity (as in Godbody) and especially the reinvention of what consciousness is and could be (as in More Than Human).

There is a part of The Cosmic Rape that lays it all out: the fun reading, the perfect 'something' that great science fiction has, and especially the way Sturgeon changes how we think but I won't just excerpt it here because that would be … well, wrong. Like – maybe, just maybe overdoing it a bit -- pasting in Michelangelo's God Creates Adam without the whole of the Sistine Chapel's ceiling. You have to read it yourself, but to give you an idea of what happens in that chapter, as well as the whole conclusion of the book, just think about the idea of a hive mind, a united human consciousness.

It's an old science fiction cliché, from Star Trek's borg to the Flood of Halo: "resistance was futile" and all that. Lots of folks lay awake at night and shudder at the thought of being merged, combined with something else, of losing their identity to some monstrous and hungry collective. But what Sturgeon did with The Cosmic Rape is to take that idea and twist it, turn it upside down and make it not hideous and frightening but warm, welcoming and wonderful: a humanity without judgment or fear, loneliness or shame, a united mankind of acceptance and understanding.

I can't recommend The Cosmic Rape enough. It's fun to read like all good science fiction, it says something important like all great science fiction, but best of all it's fantastic because Sturgeon manages to change the clichéd terror of a collective humanity into something that, like the book itself, is brilliant and wonderful.



(cover art by Paul Lehr, 1968 edition)

----------------------------------------------




"Fear Is A Business"
© F&SF, Aug 1956
--/ cool sf story
--/ style award
--/ emotion award

Nice, easily flowing story about an alien gift to humans, breaking the barriers of fear and embracing deeper knowledge - but with bittersweet overtones, how Sturgeon loves to do, bringing a little tear of "much is lost, but perhaps not all" sentiment to reader's eye. There is a rumor that the idea for that story was provided by Robert Heinlein. Of course, Sturgeon wrapped it in his inimitable style.
(review by Avi Abrams)

----------------------------------------------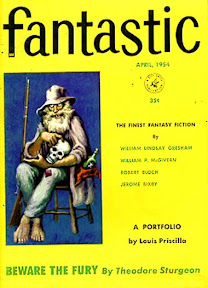 "Beware the Fury"
(also as "Extrapolation")
© Fantastic, Nov 1954
Sturgeon in Orbit, 1967
--/ cool sf story
--/ style award

The story reads smooth, like a good drink (Sturgeon, the word-smith), but the drink is diluted, so other than the main moral "Beware the fury of a patient man" this story does not linger in the mind. Some barely exciting encounters with evil aliens bent on conquiring Earth, with a Waldo-like figure of a savior: a man-hater, anti-social academic who gains the upper hand in the fight by the same trait of unpredictability. Not every traitor is what he seems. Usually one can not see the whole picture enough to judge.
(review by Avi Abrams)

----------------------------------------------




"Bulkhead"
(also as "Who?")
© Galaxy, Mar 1955
A Way Home, 1955
--/ third place sf story
--/ wonder award
--/ idea award
--/ style award

This one belongs right there in a category "Stories that made you cry". It has a great twist in the end, but that would be a spoiler to tell. It is lyrical, but at the same time, very tough space tale. Is there such a thing as "psychological therapy space fiction" sub-genre? I can count a few superior examples dealing with men's adaptation to the weirdness of space. Some guy in a spaceship is on a very long voyage. His only companion is some strange character, who he can talk to but must not meet until they arrive at their destination. When they do meet, it is not what anybody would expect...
(review by Avi Abrams)

----------------------------------------------




"A Saucer Of Loneliness"
© Galaxy, Feb 1953
E Pluribus Unicorn, 1953
--/ third place sf story
--/ wonder award
--/ style award
--/ emotion award

The story uses first contact (introducing pretty neat life form along the way) to speak about the sadness of isolated souls, the bitter-sweet rewards of drawing close to each other - all in a soft, warm voice that would be hard to forget, once you let it into your heart. A classic of classics, possibly the best inspirational story ever written.
(review by Avi Abrams)

----------------------------------------------

Read more reviews for this writer



(art by Maxfield Parrish)
Click to go to "Dark Roasted Blend" site
COMMENTS:
LATEST POSTS:

Collecting Pulp Magazines

Ephemera Interview with Avi Abrams

Enchanting Victorian Fairy Tale Art

"Then world behind and home ahead..."

Exceptional British Scifi Artwork from the 1950s

Space Pulp Art by Ron Turner and other British artists

Pulp Pleasures: Eando Binder

Great space adventure fiction from the 1930s
"Where Eternity Ends" and other rare gems

Epic Fantasy: the Start of the Journey

Part 2 of our "Best Classic Fantasy" series
incl. works by Henry Kuttner, Tolkien, etc.

Strange Shadows: Best Classic Fantasy

Fantasy "glitches in the matrix",
...lovely baroque magical lands, and more

Classic Cyberpunk SF Novels: Reviews

Neal Stephenson, William Gibson, K. W. Jeter, et al
(awesome must-reads)

10 Possible Sources of "Avatar" in Classic Science Fiction

Going beyond the obvious "Dances with Smurfs"...
(many stories worth reading)

"Steampunk" Anthology: Full Review

some truly crazed stories in there...
(plus artwork by John Coulthart)

"Dune", Plus Often-Neglected
Other Novels by Frank Herbert

"Dune", plus some overlooked gems:
"The Santaroga Barrier" and "The Green Brain"

Universe at Play:
Two Must-Read Novels of the Fantastic

"The Yiddish Policemen's Union" by Michael Chabon...
and David Mitchell's "Cloud Atlas"

Two of the Most Entertaining SF Novels from the 1980s

"Vacuum Flowers" by Michael Swanwick...
and Tim Power's "The Anubis Gates", of course!

"The Body Snatchers" and Other Alien Pods

Fiction by Jack Finney, Vance, Simak and Bloch
mind impostors and emotion imitators

Exploring the Noir and the Grotesque

Jack O'Connell "The Resurrectionist"
and other newest examples of the bizarre

Overpopulation, Sex and Sensibility

Robert Silverberg's "The World Inside"
and other classic sf blasts

H. P. Lovecraft "At the Mountains of Madness"

and other masterpieces of terror
including original illustrations

"Constellations", edited by Peter Crowther

original anthology, 2005
full review: mind-bending stories

The Ultimate Guide to New Writers of SF&F

more than 2,000 writers, 1990-2009
Ratings, awards, web links

The Surreal Office

"The Situation", "The Cookie Monster"
Weird fiction by Jeff VanderMeer and Vernor Vinge

Mind-shattering Novels of Philip K. Dick

"UBIK", "Now Wait for Last Year", etc.


Theodore Sturgeon's "More Than Human"

There's a problem with this new gestalt being:
...it needs a conscience.

Jack Williamson's "Legion of Space" Series

Classic Space Opera
The ultimate weapon, controlled by a gorgeous woman

Astounding Stories, August 1934

Jack Williamson, Nat Schachner, "Doc" Smith
Epic space opera gems and horror surprises

Rare Pulp SF&F, Issue 3

Leigh Brackett, Fritz Leiber, Vic Phillips
Rediscovered gems of wonder & adventure

William Gibson's Novels

"Pattern Recognition", "Neuromancer"
A Fractured Delight...

Alfred Bester "The Computer Connection"

"Bester was the mountain, all the rest of us..."
Pyrokinetic writing in one neat package

Two Novels by Samuel R. Delany

"Nova" and "Babel-17"
New Wave Milestones, and then some.

Theodore Sturgeon's "The Cosmic Rape"

(and more reviews of his fiction)
Classic SF at its best and most humane

Travel Distant Worlds!

Vintage Space Travel Posters, and more.
Part 3 of Pulp Sf art series...

Alastair Reynolds' Epic Novels

"Chasm City" and "Revelation Space"
And it's only the beginning...

Rare Fantasy Gems by C. L. Moore and Henry Kuttner

Hidden Gems of Pulp Fiction
When two star writers become husband and wife

Grand Old Times... in the Future

Overview of Pulp Art
A Loudly Lurid Universe of Sci-Fi Illustration

Exclusive: Interview with Nancy Kress

From High Fantasy to Hard Science Fiction
A Spectrum of Wonder

Jack Vance

"To Live Forever"
and other Vance extravaganzas

Alastair Reynolds

"Pushing Ice"
Cosmological "noir" chase across space

Charles Stross

"Missile Gap"
Mind-bending Cold War world-building

Hidden Gems of Pulp SF, Part 2

Rare stories from the "Age of Wonder"
incl. David Keller, Horace Gold etc.

Ultra-Rare Serials from "Fantasy Magazine"

"Cosmos" + "Challenge From Beyond"
incredible line-up of writers

Hidden Gems of Pulp SF, Part 1

Neat & Rare Stories
incl. the mad rally story "The Racer"

Astounding Stories, June 1935

Full Issue Review
incl. Gallun, Schachner, Campbell

Astounding Stories, May 1941

Full Issue Review
incl. Heinlein, Asimov, Eric Frank Russell

Horace Gold; P. Schuyler Miller

"Apocalyptic Blockbusters"
"Inflexure" and "Spawn": guilty pleasure

Exclusive:
Interview with John C. Wright

Plus his advice to new writers
Adventures in Space & Magic

Frank Belknap Long

"The Horror from the Hills"
Great Lovecraftian Weird Novella

Exclusive:
Interview with Jeff VanderMeer

Plus his Recommended Reading List
A Triumph of the Bizarre

Alastair Reynolds, Part 2

More "Galactic North" Stories
A Mixture of Hard Sf, James Bond & Jaws...

Alastair Reynolds Review

"Galactic North"
staring down infinity...

Most Shocking Article

"Holey Fools" by M. Christian
Warning: Gross Subject Matter

Alfred Bester Review

"The Stars My Destination"
"...nail it to the Retro Hugo voting board..."

Larry Niven Review

"Neutron Star"
"better get GP alien ship hull"

Poul Anderson Review

"Ensign Flandry"
"or how to start a sub-genre..."

Thomas M. Disch Review

"The Squirrel Cage"
"...seriously mind-bending stuff..."

Henry Kuttner Review

"Mimsy Were the Borogoves" (The Last Mimzy)
"...great storyline for a pretty average movie..."

Robert A. Heinlein Review

"The Moon is the Harsh Mistress"
"...it caused a tooth ache, and put my brain on freeze..."

Frank Herbert Review

"Destination: Void"
"...a layered cake of ideas and a scientific extrapolation on a genius level..."

Harlan Ellison Review

"The Abnormals"
"...editors slapped the most outrageous titles on his stories..."

James White Review

"All Judgement Fled"
"...the tension is palpable, soon to grow almost unbearable..."

Grand Adventure Strikes Again

Space Opera Article, by Avi Abrams
Based on Arthur Clarke's "Against the Fall of Night"

William Gibson Review

"Burning Chrome"
"...sheer pyrotechnics and exuberance of style..."

Ace Double: Murray Leinster

"The Pirates of Ersatz /The Mutant Weapon"
"...the characters might as well be cats or hamsters..."

Astounding Stories, May 1935

Pulp SF Magazine Review
with many original illustrations
Also read recent posts
:
Author's Pen Names - Most Complete List Ever
The Wonder Timeline: SF&F Restrospective
Space Adventure Article
SEE OUR MAIN PAGE FOR MORE!
EXPLANATION OF THE RATING SYSTEM:


"SF&F Reading Experience" is part of "Dark Roasted Blend / Thrilling Wonder" family of sites. We try to highlight the most entertaining and rewarding science fiction and fantasy, with emphasis on memorable reader experience, not necessarily general acceptance by the critics. Have fun, and delve into our extensive ratings and reviews!

Most reviews are written by Avi Abrams, unless otherwise noted. Reviews also appear on our unique historical retrospective page Wonder Timeline of Science Fiction. Feel free to submit your own review, if a particular story is not listed here.


All major OFFICIAL AWARDS are highlighted in BLUE
("winner" has a letter "W" by it, otherwise it is a runner-up only)

Our PERSONAL AWARDS (ratings) are highlighted in RED and PURPLE:
--/ first place :
--/ second place :
--/ third place :
--/ fourth place :
--/ cool : (equal to fifth place)
ALL "BEST OF" LISTS ARE LOCATED HERE

These awards are given in the following categories:
- novel :
- series :
- novella :
- story :
- collection :

Also, there are our personal STYLE / GENRE SPECIFIC AWARDS. These reflect the story's content and the lasting impression on the reader:

--/ wonder award
sense-of-wonder, "visual intensity" and inventiveness

--/ idea award
originality of idea / concept

--/ adventure award
exhilarating plot, excitement / action

--/ style award
outstanding literary qualities, inimitable style

--/ romance award
intense and beautiful love / relationships

--/ humour award
funny and cool

--/ emotion award
touching, lasting impression, sensitivity

--/ shock value
altogether wild

--/ awesome scale
mind-boggling; further enhances sense-of-wonder

--/ rare find
very hard to locate, mostly from old pulps, never reprinted, etc.

Again, please feel free to leave your own review or comment under every writer's entry; also recommend us other stories you liked.